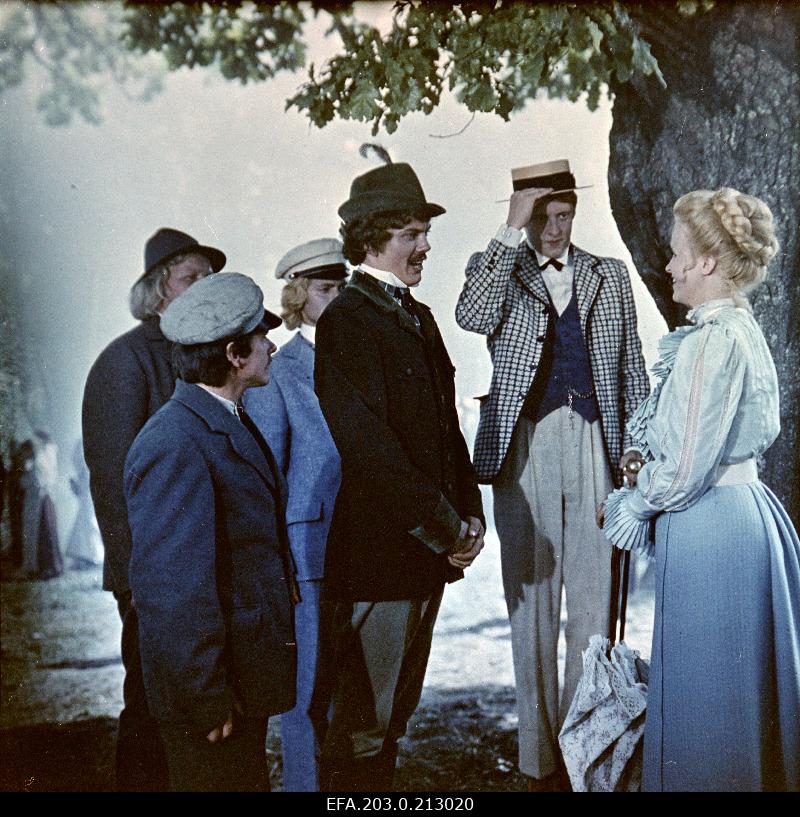 "So, look yourself in the face. Do you see your own reflection on the snowy hillsides of the Dead Mountaineer's Hotel? Or in the muddy bog of November? We have been written into and are held captive in these places, they reflect our desire to be someone and say something." (Tristan Priimägi, film critic)

Twenty-one films are not enough to cover the entire history of Estonian film. Even the 101 films mentioned in the book "101 Estonian Films" by film critic Tristan Priimägi are not enough.
Taking this book, published last year, as a basis, the viewer is presented with quotes [RT3] and poignant summaries about Estonian films presented in cinemas for over a hundred years. The exhibition includes excerpts from selected films shown on a large screen. Each film in this selection is also portrait of an era. Films that were received by audiences with some misgivings or that were even banned have become classics, while popular films of the time have been forgotten.
The exhibition space is reminiscent of an apartment under renovation, suggesting a constant renewal in Estonian filmmaking. Old newspapers on the walls tell the story of the Soviet era. Reviews written at the time reflect audience expectations, official ideology, the wishes of financial backers, views of filmmakers and also the recent internationalisation. The old newspapers under the wallpaper once again speak about the world surrounding the films – the world that those films were supposed to make audiences forget.
Renovation in the film world is still going on today. Cinemas have been closed for several months, and it is possible that new films will be released on a smaller screen and outside cinemas. This exhibition in 2021 will help to recall 21 films that communicated a common Estonian cultural experience from a time when streaming was unknown.
Author of the book "101 Estonian Films": Tristan Priimägi
Curator: Karlo Funk
Exhibition design and video editing: Katrin Sipelgas, Jaak Kilmi
Graphic design: Daniel Villems
Design realisation: Paula Pakk, Lisette-Huaniita Sipelgas, Veiko Mataloja (Fratelli OÜ)
Language editing: Hille Saluäär
With thanks to: Kaire Lass (Estonian National Library), Kalju Tammaru (Estonian Repository Library), Film Archive, Tallinnfilm