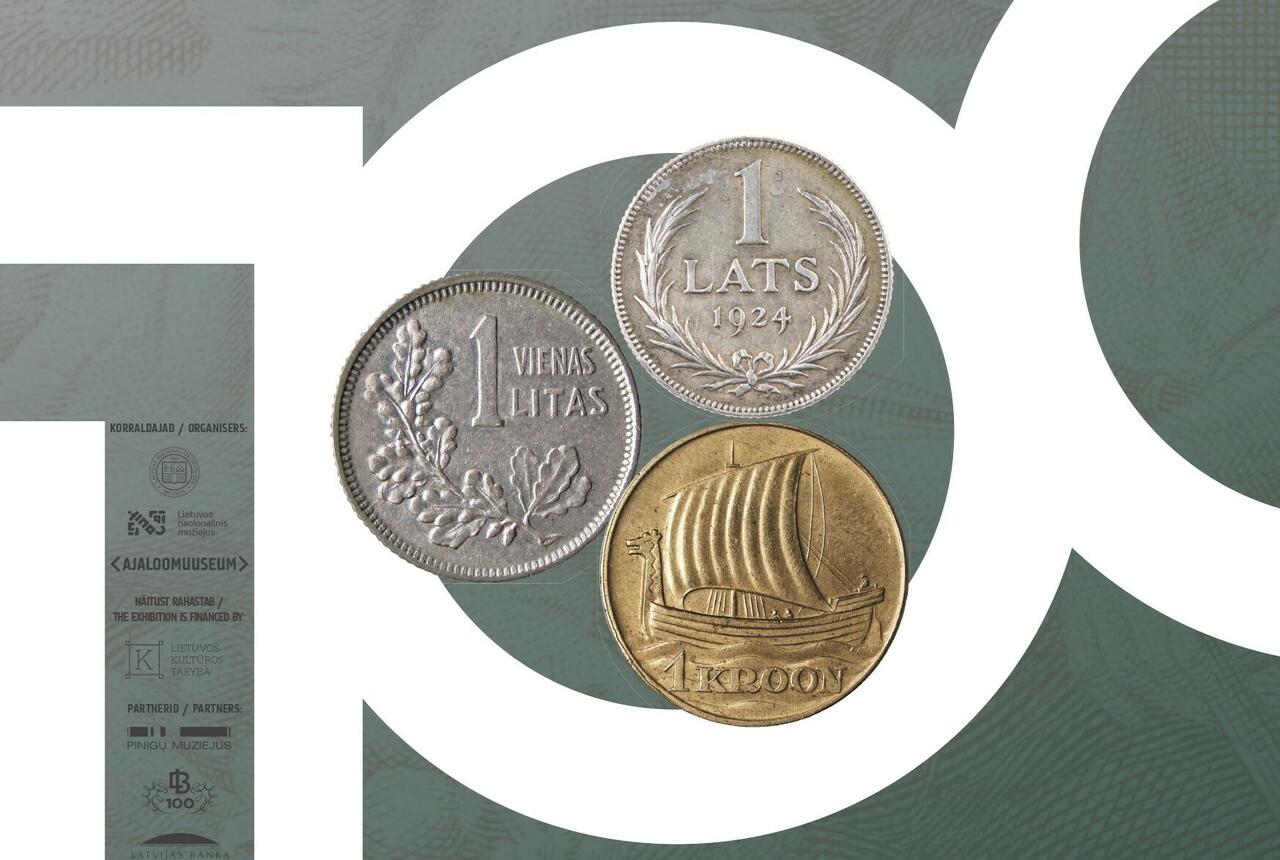 Last year, our southern siblings Latvia and Lithuania celebrated the passing of a hundred years since the release of their national currencies, the lats and the litas. Although the Estonian kroon was born slightly later, we too had reason to celebrate, as last year marked the 30th anniversary of the restored kroon. In those 30 years, the kroon, the lats and the litas have become history, but this does not negate the importance these currencies once had for the Baltic countries.
To mark this occasion, museums in the three Baltic countries jointly organised a major exhibition to commemorate our former national currencies. Titled "100 Years: Litas, Lats, Kroon", the exhibition first opened in Vilnius in the autumn of 2022. After being displayed in Riga, the exhibition will finally reach Tallinn, where it will remain open to the Estonian audience from 15 June until 10 December 2023.
The exhibition takes visitors on a journey through the three Baltic states in the two periods when they shared a similar political, financial and ideological fate. The Baltic states underwent a similar process when establishing and restoring our own money, prompting similar questions: How were our national currencies born? Where and how were banknotes produced? What message did adopting our own money as independent states convey to the rest of the world? What were the values we intended to express? And furthermore, what, if any, were the alternatives: could the names and designs of our currencies have turned out different? The last question, perhaps a slightly nostalgic one, is this: has the story of national currencies come to an end? The answers to these questions reveal the multifaceted historical, political, economic, cultural, ideological and artistic dimensions of our national currencies.
The exhibition presents hundreds of items from diverse Baltic museums, archives and private collections. Some exhibits have never before been displayed. The exhibition is aimed at professionals, students and all those interested in the topic.
Curators:
Dalia Grimalauskaitė
(National Museum of Lithuania),
Mārtiņš Vāveri
,
Dr Kristīne Ducmane
(National History Museum of Latvia),
Ivar Leimus
(Estonian History Museum),
Siiri Ries, Maie Uustalu
(Bank of Estonia Museum)
Original design:
Jurga Karosaitė
Graphic design of the Estonian exhibition:
Kätlin Tischler-Süld
(Estonian History Museum)
Artist:
Aime Andresson
(Estonian History Museum)
Architectural design:
Sandra Šlepikaitė, Giedrė Narbutienė
Preparation of exhibits:
Ann Aaresild, Vahur Lõhmus, Theodora Kormpaki
and
Liisu Ristal
(Estonian History Museum)
Installation of the exhibition:
Koit Annus
and
Riho Ints
(Estonian History Museum)
Project manager:
Triin Kerge
(Estonian History Museum)
Education programme:
Minna Lahtvee
(Estonian History Museum)
Marketing and communication:
Helene Tedre, Krista Arro
and
Margus Sass
(Estonian History Museum)
Translation:
Epp Aareleid
Printing:
Kätlin Piht
(Digiprint)
Many thanks to:
Sirli Oot, Sigrid Huik, Herkke Kukk, Bank Of Estonia Museum, National Archives